Enter your location pin-code
pureit.hul@unilever.com
+919739101344
Customer Support:
1860-210-1000
Best-In-Class Filtration Technology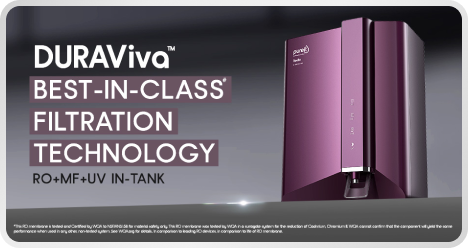 Tested for Heavy Metal Removal*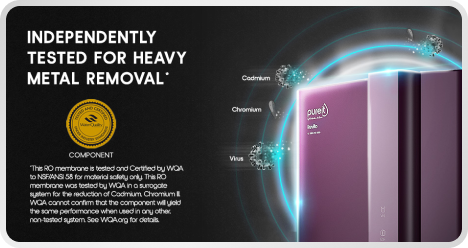 Maximum Purified Water & Water Saving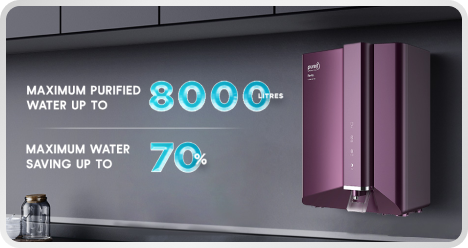 Mineral Enriched Water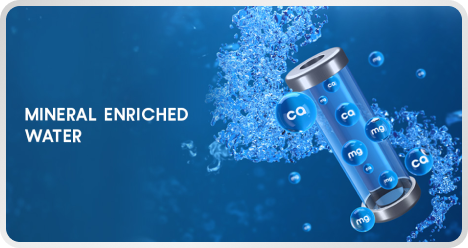 In-Tank UV Sterlization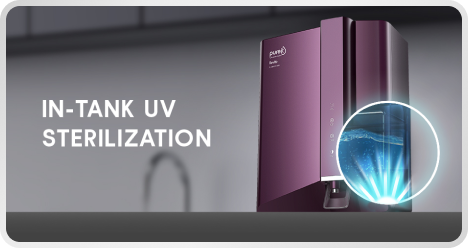 Advanced 7-stage Purification RO + UV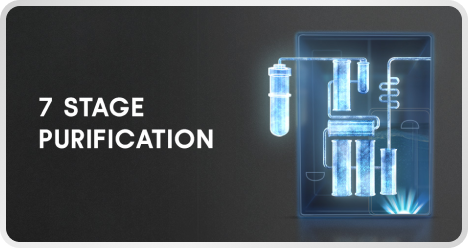 Smartsense Indicators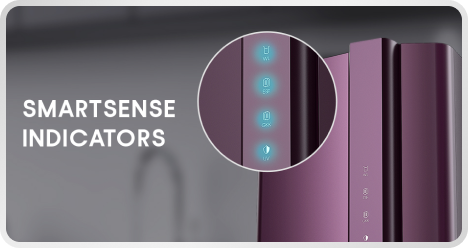 WQA certified component, USEPA compliant & NSF 58 certified.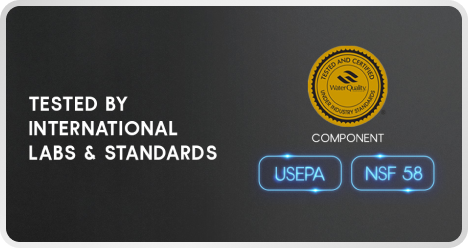 Maximum Purification Speed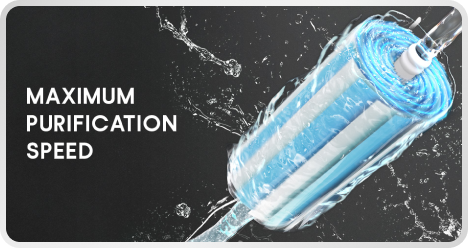 Large Storage Capacity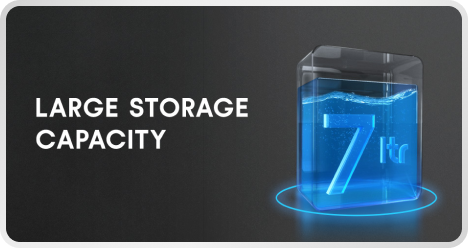 Premium Aesthetics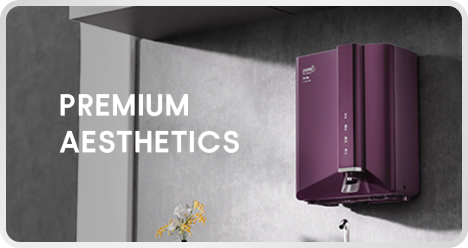 Purifies All Types of Drinking Water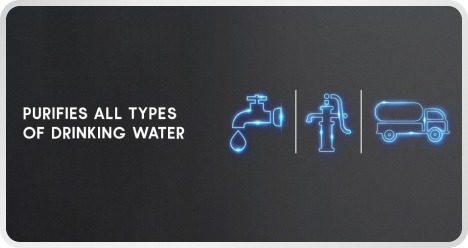 100% Food Grade Plastic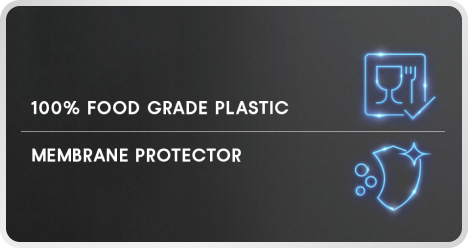 24x7 WhatsApp Assistance & Other Support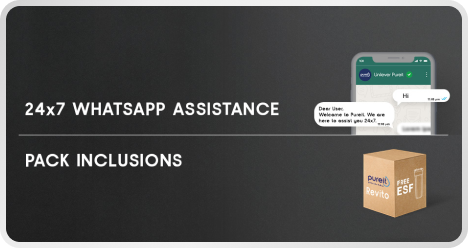 Marketer Name and Address: Hindustan Unilever Ltd, Hindustan Unilever Ltd, Unilever House, B D Sawant Marg, Chakala Andheri East - 400099
Dimension
265mm (L) X 375mm (W) X 488mm (H)
Product weight
9.5 kg
Purified Water Flow Rate
24Litres/Hour
7-Stage Purifying Technology
RO+MF+UV in-tank
Membrane type
Thin-film composite spiral wound (WQA Certified)
Pump type
Diaphragm pump, 24 V DC
% Recovery
70%
TDS Reduction
Complies to IS 16240. Even up to 90%
Power rating
37 Watts
Pressure rating
Min 0.06 MPa, Max 0.2 MPa4
Rated voltage
100-240 Va.c. 50/60 Hz (100-300 Va.c. 50/60 Hz)
Material of construction for plastic parts
Food safe, non toxic engineering grade PP plastic
Length of power cord
1.5 meters
Total dissolved solids
Up to 2000 mg/lit5
Total Hardness
500 mg/lit (max)
Iron
0.3 mg/lit (max)
Turbidity
1 NTU (max)
6.8 to 7.1 under running water conditions. Permeate flow rate and recovery are based on standard test conditions and may vary depending on input water quality, TDS, pressure and life of Filter elements. Input water quality and TDS content are important determinants of output water quality. If input pressure exceeds 30 PSI, please install a company provided pressure reducing valve at an additional cost. If the pressure is less than 10 PSI then you need to buy 'Pressure enhancing pump' at an additional cost. Device should not be installed in a house where input pressure is greater than 60 PSI. Post-RO Carbon Filter fitted in the device may need to be changed intermittently at extra cost in case you face smell issues. Technical specifications are subject to change or improvement without prior notice. In case the TDS is >1000 PPM, a company provided anti-scalant is recommended to be installed this has to be purchased at extra cost. Safety from harmful viruses and bacteria as per stringent guidelines led by USEPA, when purifier is used and maintained as recommended in product user manual.
Download
What is the storage capacity of Pureit Revito (Magenta)?
Pureit Revito (Magenta) has Storage Tank capacity of up to 7 litres under running water conditions. The storage tank is fully automatic and well shielded and as and when you take water out of the tank, the purification process starts automatically again and refills the storage tank.
How much time does it take to purify water in Pureit Revito?
Pureit Revito (Magenta) can purify water up to 28 litres per hour depending on the device you have purchased. However, the time taken to purify depends on the life of the filters, the input water pressure, TDS and other impurities present in the water.
Does Pureit Revito (Magenta) remove arsenic, fluoride and nitrates and iron?
Like other ions, the RO technology can also remove arsenic, fluoride, nitrates, and iron. However, you are not recommended to use our device if the input water contains more than 0.1 ppm of arsenic, 8 ppm of fluoride, or 0.3 ppm of iron.
How will I get new consumables/membranes replaced?
You need to call the Pureit helpline (1860-210-1000) and order the consumables. The customer care specialist will visit your place and replace the consumable/Germ Kill Kit at a nominal cost.
Can I drink the first purification cycle of water from the purifier?
No, our recommendation is to throw the first two cycles of water that is filled in the storage tank when the new Pureit purifier is installed and also whenever the Germ kill Kit is replaced.
Can I open and service my purifier?
It is not recommended to open and service purifier by an individual. Call our Pureit helpline if you face any issue which requires servicing and opening of the purifier.
Can I use reject water?
It is not recommended to use the reject water for any kind of human/pets consumption (drinking or cooking). It may be used for gardening or cleaning floors.
What should I do if any part of purifier is broken?
Please call the Pureit helpline. Our technicians will visit your house and guide you on the repairs required. There will be a nominal visiting charge and you would need to buy the parts required.
What should I do if there is leakage from the purifier?
First switch off the water source/ valve if you find any leakage from the purifier and turn off the power switch. Check for any visual improper fitment and then call our Pureit helpline number and register a service request.
How long the stored water in Pureit Revito (Magenta) can be used for drinking?
You can use stored water for 2 days. If it is not used for more than 2 days we advise you to discard that water, refill and then consume.
How does Pureit Revito (Magenta) purify water?
Pureit Revito (Magenta) has 7-stage purification process which ensures you get water that is 'As Safe As Boiled Water' and also removes excess Total Dissolved Solids (TDS) to make your water tastier.